We know a champ when we see one.
14 year old boxer Naseem Stowell is a great role model for other teenagers out there. Alongside his full-time schooling, intensive training schedule, somehow Nas still finds time to run each day and fundraise for charity.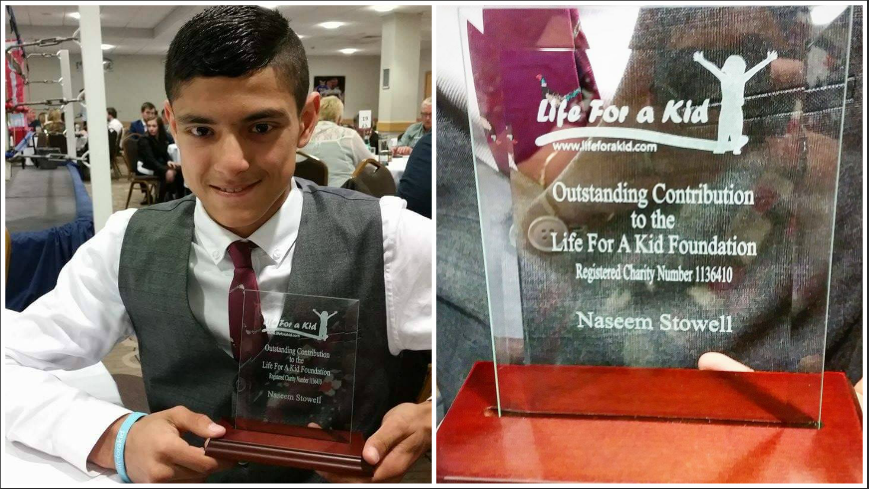 Naseem's next planned charity fundraiser is a zip line event on October 3rd in Wales...which is Europe's longest and fastest zip line!
His chosen charity for this fundraiser is Life for a Kid - the organisation helps children up to the age of 16 who require specialist equipment and machines to make their life easier. The money Nas raises might also go towards funding one of these children to take a well deserved holiday. 
(If you'd like to support Nas, you can donate any amount via his GoFundMe page by stating that the money is for his zip line event.) 
Naseem Stowell: Q & A
How old are you now and how long have you been boxing for?
I am 14 years old I started boxing when I was 10 and a half. 
What got you into the sport and what do you like about boxing?
My mum got me into boxing on the recommendation of my gp as I have mild asd adhd and tics and he thought the boxing might help with my concentration and focus. I took to the sport straight away, I love the training and the competing and it's definitely helped me to make friends and become more confident in myself.
What are your boxing goals for the next three years?
My aim is to win the Yorkshire championships and then the nationals. I am working really hard and taking my training seriously in order to achieve this.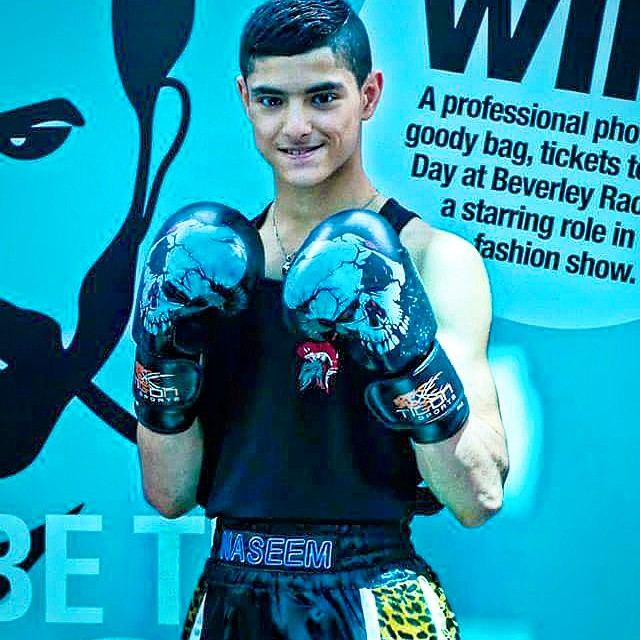 So, what does your current weekly training schedule look like?
I train every night after school Monday 5 - 8, Tues - Friday 6 -8 and weekends 2 - 3 hours a day so an average of 16 hours a week plus I do my own daily runs.
I recently ran in the Hull 10k. I finished in 40 mins and raised £620 for charity (Life for a Kid). 
What would you say to other young guys who are interested in getting into boxing - do you have any words of advice? Where should they start?
My advice to someone around my age who is interested in boxing would be to find a club close to home that you're happy with. You shouldn't be afraid to
 try a few clubs until you find the right one. Apart from that, it's train hard, be dedicated, eat healthy but also have fun.... enjoy the sport...otherwise what's the point?
What is your proudest achievement so far when it comes to your boxing activity?
Getting to the boxing championship finals was fantastic.
Although I did not win the final, it was an amazing experience. I also recently won the Hull Daily Mail Sporting inspiration Awards 2014 for my achievements, for overcoming difficulties and for my efforts in fundraising which made me feel proud.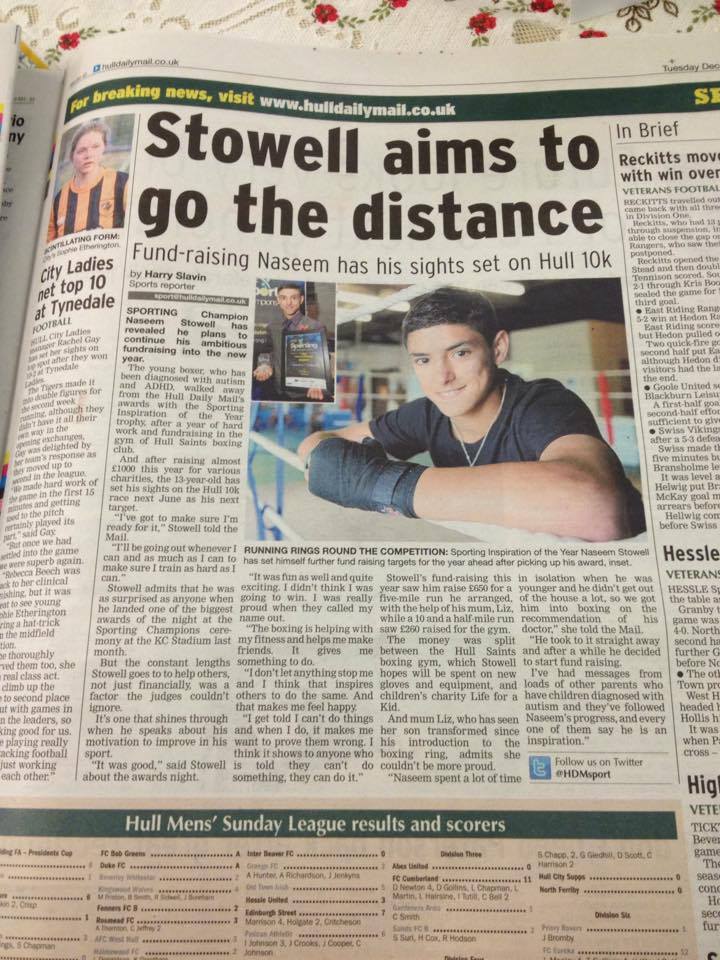 Do any of your friends at school also boxing? Are they surprised you do it?
A few people at my school do also box, but not really in my personal group of friends. Some people are surprised I box due to my ASD ADHD and tics. However, I feel the sport has definitely helped me rather than hindered me when it comes to channeling energy and building focus. 
Who do you currently train with?
I train and box for an amazing club in Hull called Vulcan ABC... my coach is Sebastian Glazer. 
Are there any particular sports people you look up to or you think are inspiring? Why?
I believe Muhammad Ali was the greatest boxer and feel he also had to overcome many personal obstacles.
I also respect and follow Luke Campbell and Anthony Joshua as I watched them both in the Olympics and I want to one day follow in their footsteps. 
Which things have been your biggest challenges when it has come to developing your boxing skill?
I love every minute of training and being in the gym.  My biggest challenge when it comes to training and the sport is to not be too hard on myself and give myself a rest day now and then.
Due to my adhd, I have a lot of energy and really want to train everyday. But I also do understand the importance of resting.